50 Years of Artificial Intelligence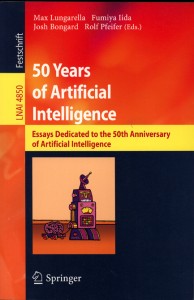 The Dynamic Darwinian Diorama: A Landlocked Archipelago Enhances Epistemology
by Adrianne Wortzel
Abstract. This paper discusses the relevance of embedding dramatic scenarios and expressive language into methodologies employed in the research and development of biochemical and/or electronic sentient beings. The author demonstrates how integrating imagined modalities into current practices can afford a profound and positive effect on outcomes.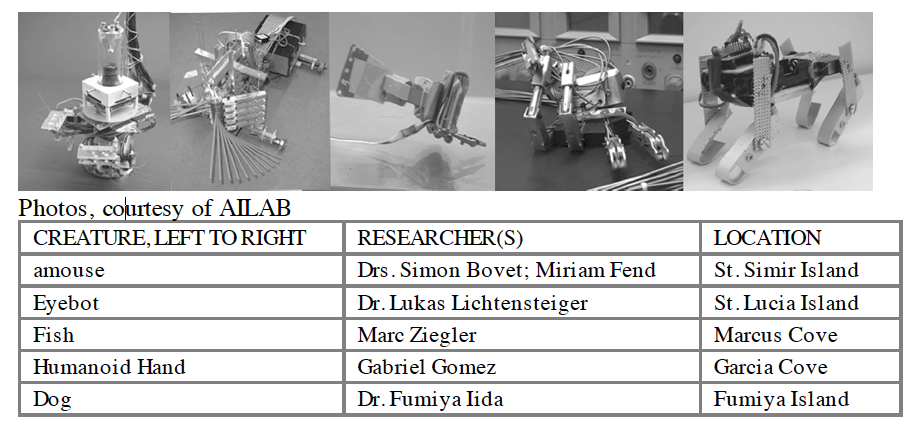 In 2004 I was the recipient of a Swiss Artists-in-Residence Award to spend six months embedded in the Artificial Intelligence Laboratory, Department of Informatics, University of Zurich ("AILAB"). I came to the AILAB with over 10 years of experience as an artist creating robotic and telerobotic art installations and performance productions, both in physical and virtual networked environments. For these works, I had collaborated with research engineers working in the fields of robotics and related fields in the US.
To a large degree, AILAB researchers develop disparate idiosyncratic robots int heir individual labs rendering my tenure there an experiential journey because I spent my time on the premises traveling from one individual research laboratory to another, examining the creatures produced indigenous to each lab. Therefore; both the layout and the environment of the AILAB lent itself to my rendering as a geographical territory of dispersed islands on which singular robotic species evolve in relative isolation. The individual labs became, in my mind, islands in an architectural "galapagos" and I proceeded to create video content as a "re–enactment" of Darwin's Chapter 17 of the Voyage of the Beagle: Galapagos. The resulting work: archipelago.ch is a video depicting that journey. Darwin's prose fits the content of the lab research beyond all reasonable expectations.
View the complete text pdf here.