'Artificial Selection' exhibit at 516 ARTS
'Artificial Selection' exhibit at 516 ARTS imagines what is yet to come from science, technology future shock
By Dan Mayfield
June 2010
Journal Staff Writer
We've all seen robots in science fiction movies and TV: WALL-E, Data from "Star Trek," Robbie the Robot.
As technology has advanced and robots and science have progressed, artists are now taking hold of many of the ideas of science fiction and science reality, asking questions about the future of the world.
"That plays a humongous role, I think, because the lay people have been saturated by the fantastic imagining of artists and filmmakers of what this future will be or will become," said Rhiannon Mercer, the curator of the new show "Artificial Selection" at 516 ARTS. Her show takes a look at the exciting, scary and funny sides of what science holds in the future.    "Some is foreboding, some is exciting," she said.
"There's a fear and a fascination for people for humans becoming antiquated beings," Mercer said. "It started a long time ago in the Industrial Revolution."
Several of the artists in the show are in tune with the darker sides of technology and the moral dilemmas that they bring, such as genetic engineering.
The possibilities for modified animals and humans is endless, and many of the artists in "Artificial Selection" have created fantastical creatures that conceivably could be created. But, they ask, should they be created? Does the world really need a yellow and purple hamster?
For "Artificial Selection," artist Travis J. Farnsworth, for example, created a story that follows animals used as test subjects who take their revenge on humans. Is it heroic or tragic that the animals rebel against their human captors?
However, other artists in the show are looking at technology in a friendlier way.
Adrianne Wortzel took a creative look at new robots by researchers in Zurich, Switzerland. Instead of seeing the robots simply as machines, "she's got a popculture twist on robotics in general," Mercer said.
Wortzel made a video and has cataloged the artificially intelligent robots like animals, much like Charles Darwin did on the Galapagos Islands.
"She was working with researchers who were treating A.I. creatures as a new species and cataloging it," Mercer said.
With her video, she's made episodes that track each individual robot in its natural habitat, like "Planet Earth" meets "Nerd TV."
"The exhibition is about artists' responses to these things," Mercer said. If you go
WHAT: "Artificial Selection"
WHEN: Opening reception 6-8 p.m. Saturday, April 24. Show runs through June 26. Regular hours are noon-5 p.m. Tuesdays-Saturdays
WHERE: 516 ARTS, 516 W. Central
HOW MUCH: Free. Call 242-1445 or visit www.516arts.org   for more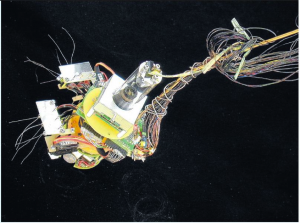 Steve Bud
Adrianne Wortzel took to cataloging robots the same way Charles Darwin did with animals. This photograph is titled "Archipelago.ch: St. Simmir Island," and is part of the new "Artificial Selection" show.