Art: Is It Stranger than Diction?

January 1996
BLAST5DRAMA:
ART: IS IT STRANGER THAN DICTION?
by musEleanor, C.M.S.A.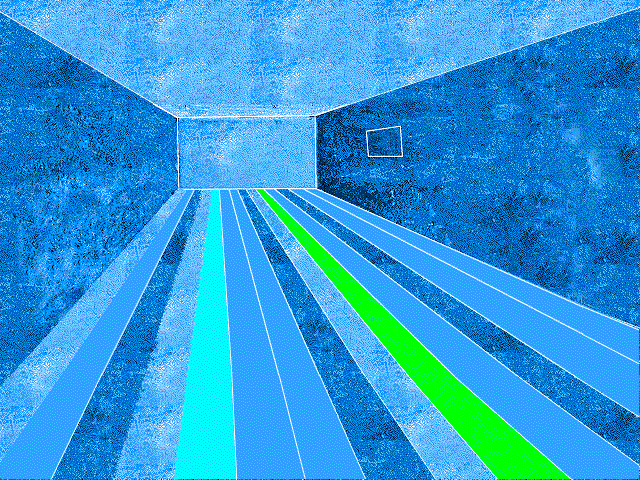 "Master Bedroom" – by musEleanor for Blast5website
Performative works and performers discussed in this article:
musEleanor speaks:

Should a Certified Muse in the Service of Art present critical review?

My traditional role as a CMSA is to facilitate creative endeavor, putting forth critical review to the artist either as allegorical narrative or by example in order to avoid direct intervention. Only a properly trained muse can tolerate that human processing in chronology may be a myth, or even worse, work in revers–its downhill slide commencing at the moment of upright posture. This is why a muse alone is entrusted with offering benign and seemingly passive assistance to artists.
Centuries, like equators and borders, do not really exist; but nevertheless are of great use in our minds as markers. The end of this particular century may yet bear witness to the human surrender of bipolar prejudices to a consideration of the true pluralistic nature of things. If humans now do not need protection from the glimpse of God's face in the abyss of links, then perhaps it is the time for the muse to speak out.
musEleanor, CMSA*
December 1996 A.D.
As the diagrammatic form3 on an entry web page4 indicates, blast5drama5 is an ever-changing cat's cradle of collaboration which amplifies the work of artists, whether that work is already in progress, or commenced by stimulation from the blast5drama theme. The diverse manifestations of blast5drama show it serves well as a model armature for groupings of creative works. Most of the individual workings in blast5drama exist strongly as works in their own right while simultaneously acting as connective tissue between parts of a larger encompassing entity.
The effects of blast5drama have potential to resonate for a long time in a very positive way. Because it is and will be subject to public view and response, we hope that future "Blasts" do not become re-packaged and re-released, institutionalized as a signifier and/or as a coded cach&eacute for participating artists instead of the phenomenon Blast is here, a catalyst, a series of clues, an archeological dig, a mainstay, allowing a venue for marvelous works and their linking to each other in support of a story.
Blast may cross paths with other, familial efforts like the upcoming Port6, show at MIT, curated by artnetweb. These huge collective efforts. passing each other like ships in the night (or vehicles at the crossroads), could affect each other as ponds that somehow combine to produce the developing ocean of connected and collaborative works. With the benign and innovative direction by Jordan Crandall and the Editors7 of blast5drama, Blast could continue to provide a documentation and performance arena allowing artists to occupy themselves making history of history making history in producing works of art.
Crossroads/Worst Case Scenarios
Each participant in blast5drama, whether performative, object-making, imaging, authoring or working with combinatory manifestations, is required only to touch base with the Crossroads Story 8 by Marlena Corcoran, and then proceed to interpolate, blend and layer the theme[s] they develop in their work.
Crossroads is one of Ms. Corcoran's best Worst Case Scenarios9. The WCS are an ongoing series of sagas, some of which–in the form of the writings and readings performed with Sean Bronzell–constitute her contribution to Blast. The Crossroads story's tight gathering of forceful phrases lends itself to becoming an oasis for the projects which form the gigantic collaborative effort of blast5drama under the auspices of the The X-Art Foundation. The Crossroads story is the story of crossroads everywhere, exhibiting a global idea of ordinariness and litanizing the death throes of invention and imagination wherever it may occur. It has been translated into many languages, and even has its own cryptic font, originated by Antoinette LaFarge, which amply resonates its emblematic nature.
Constraints of applied Theory are coded into the development of these works, sometimes explored in their own right, or exploited as a means of insuring the development of "quality" work. The imposition of theory on actual work has, in some cases, resulted in a stylization that forms a sort of mask. The mask functions as a facade behind which the artist can work freely, or as a disguise behind which to play hide and seek10. Masking is one of the theoretical, theatrical trails blast5drama is blazing, and seems in harmony with its goals.
The marvelous hybrid vehicles and stageset at the Sandra Gering Galler–created by the partnership of Sulan Kolatan/William J. MacDonald with Erich Schoenenberger of Kolatan/MacDonald Studios–speak as representations of ordinary objects that must crossbreed in order to survive. With no advisory or ethical Board of Directors for instruction, all borders between the end of one object ends and the beginning of another are discarded. The gene pool of Object is being restocked with every criteria for Process and natural selection as the only new criterion for Being.
Performances surface for their tenure in real time and then are archived via the official blast5drama Time Curators: Parkbench11. Parkbench is the phenomenon that has developed and facilitated live online performative venue for artists since the beginning of the World Wide Web. Parkbench consists of Nina Sobell and Emily Hartzell, two artists so incredible in their own work that they are officially exempt from the necessity of musing by the SCMSA12. The online theater they create and facilitate for other artists is streamed live over the Web and then archived at their site. For the moment they have moved their Alice operation into the Sandra Gering Gallery; after January 4, it will return to home base at the Center for Advanced Technology at NYU.
Among the performative works arranged by Martha Wilson of Franklin Furnace is Diane Ludin's and Prema Murthy's BURNINGS, a scenario postured evocatively between pageant and soap, and relating a memory of some forbidden activity that took place sometime in the past in the Master Bedroom of the Crossroads story. Artifacts of that activity remain and are pondered. Franklin Furnace housed the Phantasmagoria episode of blast5drama.
Other performers and performative works include:
John Hopkins, photographer and writer, reinvents the artist as theory activist/active theorist. By arranging one-to-one conversations between himself and others, he performs "talking" events all over the world. John sees one-to-one conversation as the only form of revolution left in the world. John provided a series of dinners; one with each blast5drama Editor. No agenda or conversational menu was presented–creating an empty space between one participant and the other, which in turn promotes a certain discomfort, accompanied by a strong urge to flail about demanding criteria. But one realizes in time that the experience exists in a state of being without identification tagging, allowing something both natural and definitive to happen between people via talking. Because he can bear the consequences of not imposing any structure or rationale on an event, John's work, in a way, evokes the genre of outsider art.
Line UpRobert Mahon's Line Up, a made-for-slide-projector four-minute movie from a story by Carol Joyce, evokes the pleasure and terror of the expansion and contraction possibilities existing in the space between the hopes and fears of making life choices.
Gray MattersNoah Wardrip-Fruin, Kirstin Kantner and Chris Spain have written out what seems like the subtext, or underbelly, to Gray's Anatomy. Pictures of body parts are accompanied by fictive episodes written by the three writers, all interleaved with the writings of Gray, rendering biology as experienced in a highly personal way through the four equally astute, but very different, voices. Gray Matters is presented in a very marvelous environment–Pad++ Multiscale Interface13.
There are multitudinous other very excellent works worth both a visit to the website and a dedicated day or more of visitation to the Gallery.
blast5drama exhibition was augmented by an excellent symposium organized and moderated by Heather Wagner—The Next Stage: Performance and Technology at the Crossroads, hosted at Franklin Furnace. Speakers were: Mark Nunes, Thyrza Nichols Goodeve, Antoinette LaFarge and Adrianne Wortzel. Online performance was discussed along with its precedents in vaudeville, archaic plays and operatic dramas.
The word "drama" is the ticket to enjoying each manifestation of blast5drama, whether object, performance and/or vehicle. All provide clues to the drama while sustaining its mystery. Clues are settled in at increments of stage-set space. When we cannot figure out the literal place something has in the designated drama, the Crossroads story, we can only assume; we are then posited to see one particular facet of the object, vehicle or performance, viewing it from that particular perspective, the one where we cannot see the dark side of the moon.
Photo Credits: "Master Bedroom," Heather Wagner / Adrianne Wortzel

© Hyperactive Co. 1997